Talk to us, we are here to help
What are the benefits of an Equinox Louvered Roof?
An Equinox Louvered Roof increases comfort by maximizing functionality in your outdoor space. Both homeowners and business owners enjoy increased usability. The fact that the louvers are adjustable means you can dial in the perfect amount of sun or shade. If it rains close the louvers in seconds for full protection. On a hot summer day you can open the louvers for ventilation and sunlight. Closed Louvers provide 100% shade which can also help reduce interior cooling costs.
Equinox Louvered Roof Systems provide ultimate flexibility. The solar powered motors are energy efficiency. A remote control makes operation easy. Equinox Louvered Roofs manufactured from extruded aluminum and built to last. This durable roof system is Miami-Dade County approved and TDI approved here in Texas. All this engineering means Equinox will withstand our local elements. Another benefit is aluminum is low maintenance only requiring occasional cleaning. The versatile design allows for studio or gabled roof options. This complements any architectural style or design.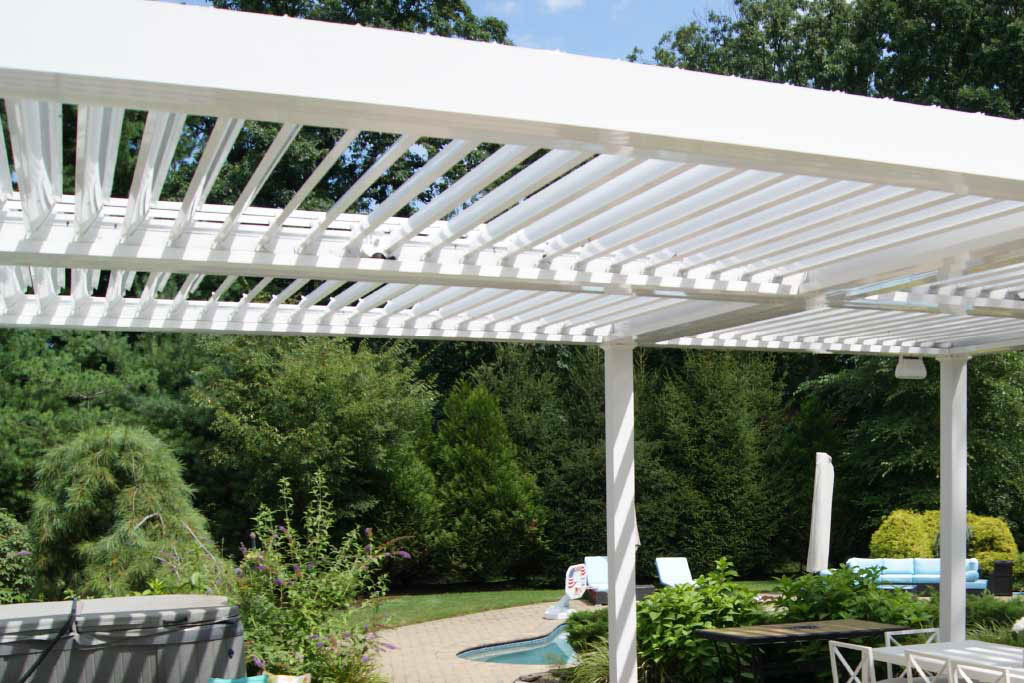 How does The Louver Roof System Work?
Equinox Louvered Roofs contain louvers or blades that rotate within a fixed frame. Driven by a solar powered motor, the louvers rotate in full unison. This allows for the desired amount of sunlight, shade, and ventilation. In the closed position, the interlocking louvers create a watertight seal.
Where does the water go? Great question… The louvers have a slight pitch that directs water into a gutter and downspout system. This channels rainwater away from the covered area. The typical Residential Roof System uses a rechargeable solar powered battery. The system operates with a remote control and requires no wiring or power from the home.
Commercial Roof Systems can be quite large. Depending on the roof size, they use one or more toggle switches located near the patio covered area. These motors are powered by a transformer connected to a regular 110v outlet.
Where do you install Equinox Louvered Roofs?
Equinox Louvered Roof systems are perfect wherever you need sun, light, and weather protection.
Perfect locations include:
Patios, Decks, Spas, Pools, Outdoor kitchens, BBQ areas, Entryways, and Courtyards
Equinox Louvered roofs are designed to enhance any outdoor lifestyle. We build the roofs as a free-standing system or attached to your existing structure.
What Our Customers Have To Say...
"Hands down the best investment we've made so far in our new home. We entertain and cook outdoors quite often so our new louvered roof makes it possible to enjoy our back porch. Now it doesn't matter when it rains, we can bar-b-que and still enjoy the time together"
"I'm not easy to please when getting any type of renovation on my home, but these guys were great. The guys were pleasant to work with and professional. The finished product turned out awesome, with my new remote I can open and close my new cover."
"We looked at several patio covers and pergolas, but this is the only option that gives you the ABSOLUTE BEST of both! Brent was very easy to work with and we couldn't be happier with our new back porch. Thank you!"