Do You Have A Patio That Needs An Insulated Patio Cover?
Patio Covers
Patio covers enhance your outdoor space. Houston is hot and averages 106 days of rain per year. One of our patio covers would let you enjoy the backyard all year with shade and protection from the rain. Our patio covers are custom designed to match the look and feel of your home. We don't do corrugated metal for a roof, we use a 3″ insulated roof system. Houston Louvered Roof patio covers have an R19 insulation value (similar to an attic) so you will stay nice and cool in the shade. Many of the old carport style patio covers provide shade, but they are not insulated so you literally cook in the radiant heat underneath them. Not to mention how loud they can be when it rains.
There are so many advantages to an insulated patio cover it really doesn't make sense to consider any other solid patio cover. Your home is typically the biggest investment. You should work with a company that has years of experience. Folks that have been in the industry for decades and take a consultative approach. We are not pushy salesman, we'll take our time and design the best use of your outdoor space. A patio cover that makes sense and compliments your home, not something that looks like a tacky afterthought addition.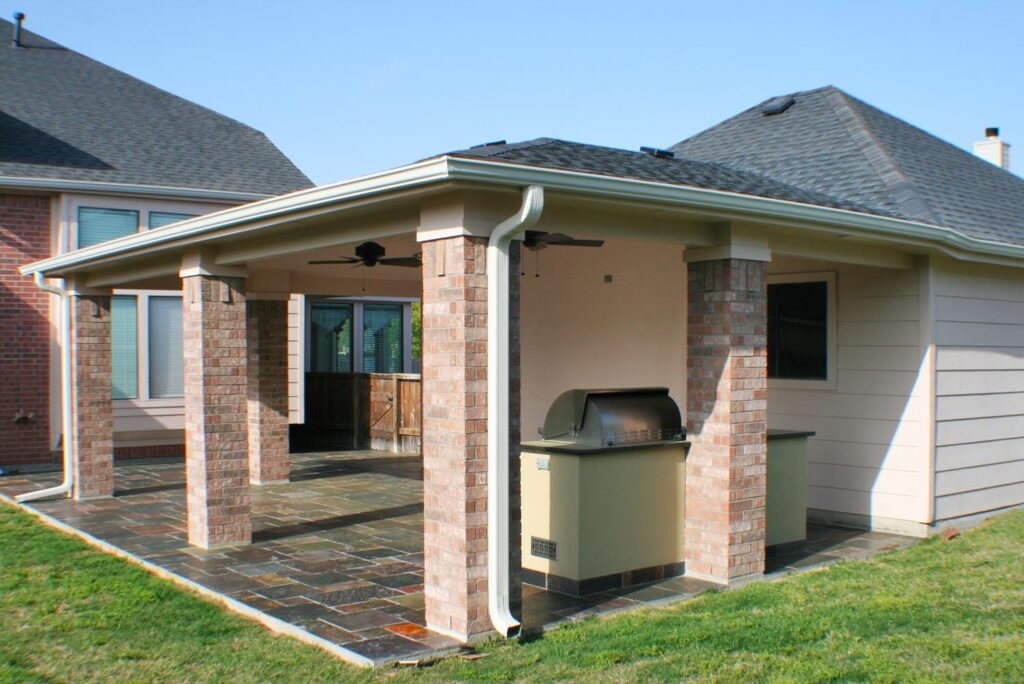 Patio Covers Houston, Texas
Most neighborhoods now require Patio Covers to be shingled to match your existing roof. No problem. We also take care of your Homeowner's Association for you. Houston Louvered roof has worked with homeowner associations all over town and know how to properly submit all requirements to insure we get your project approved. We offer two roof styles, Studio or Gabled, both of which can have ceiling fans or lights added for your convenience.
Our Patio Covers are virtually maintenance free. They are are impervious to insects. Houston Louvered Roof insulated patio covers will never rot, crack, or warp. The finish retains its original color, texture, and glossy look longer than any other product on the market. Basically we only use the best products on the market. We do not cut corners or sell any inferior products. Most of our installers have been with us for over 20 years. (We have one crew leader that has worked with us for 30 years, yep that was 30 years)
Click to call (281) 761-6316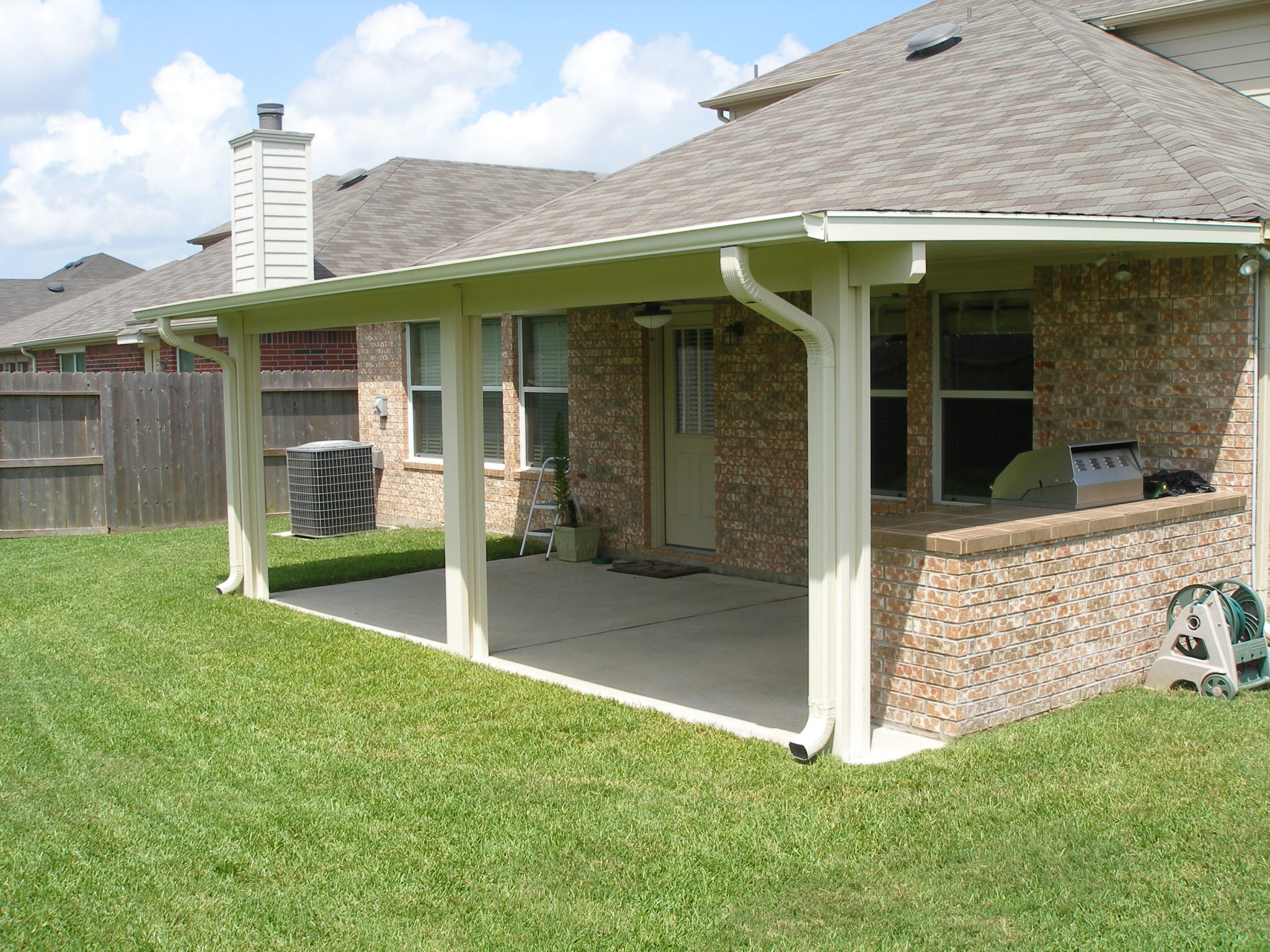 Check out some of our Insulated Patio Covers
We have tons of satisfied clients that are happy for us to show off their Patio Covers.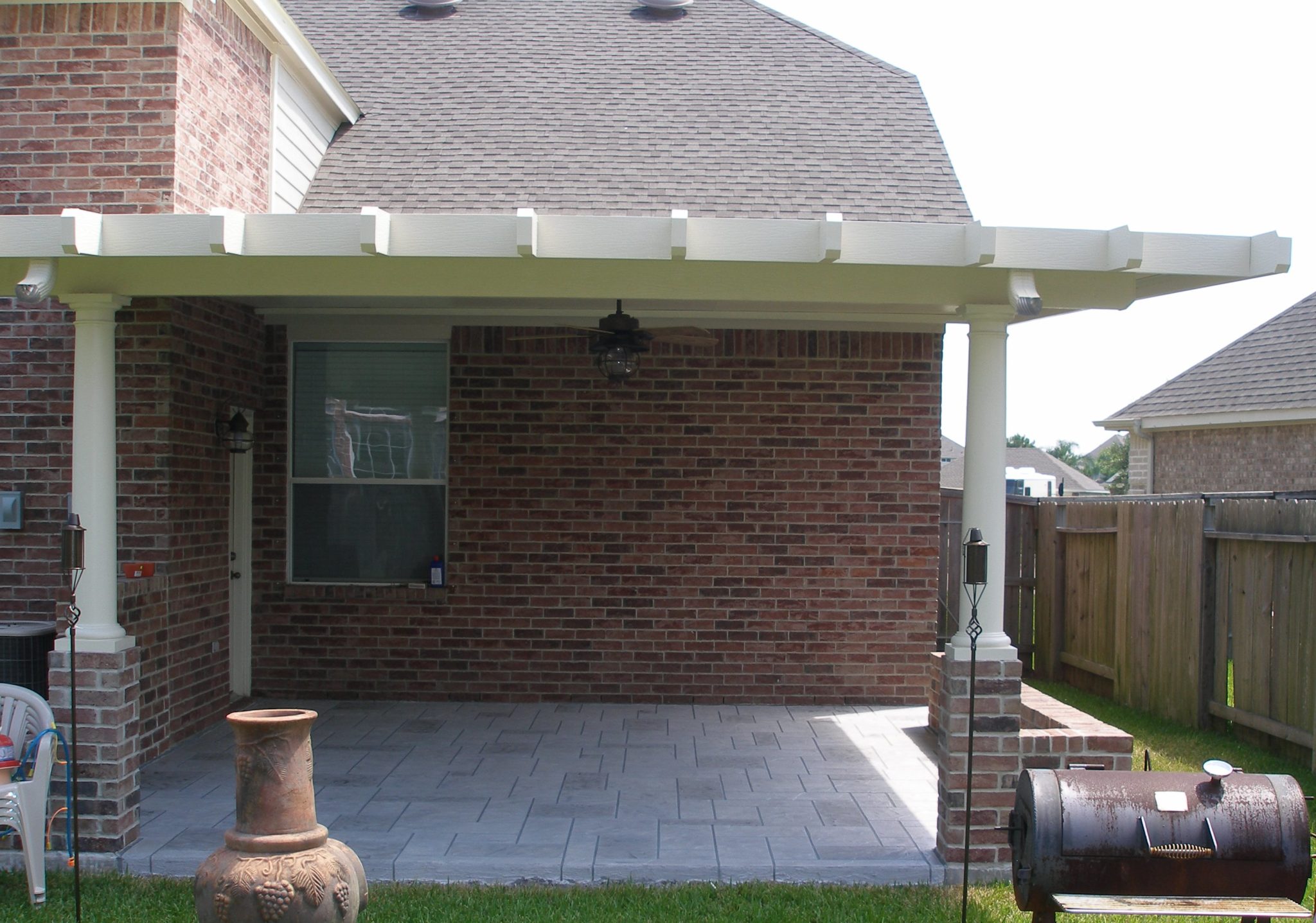 Patio Covers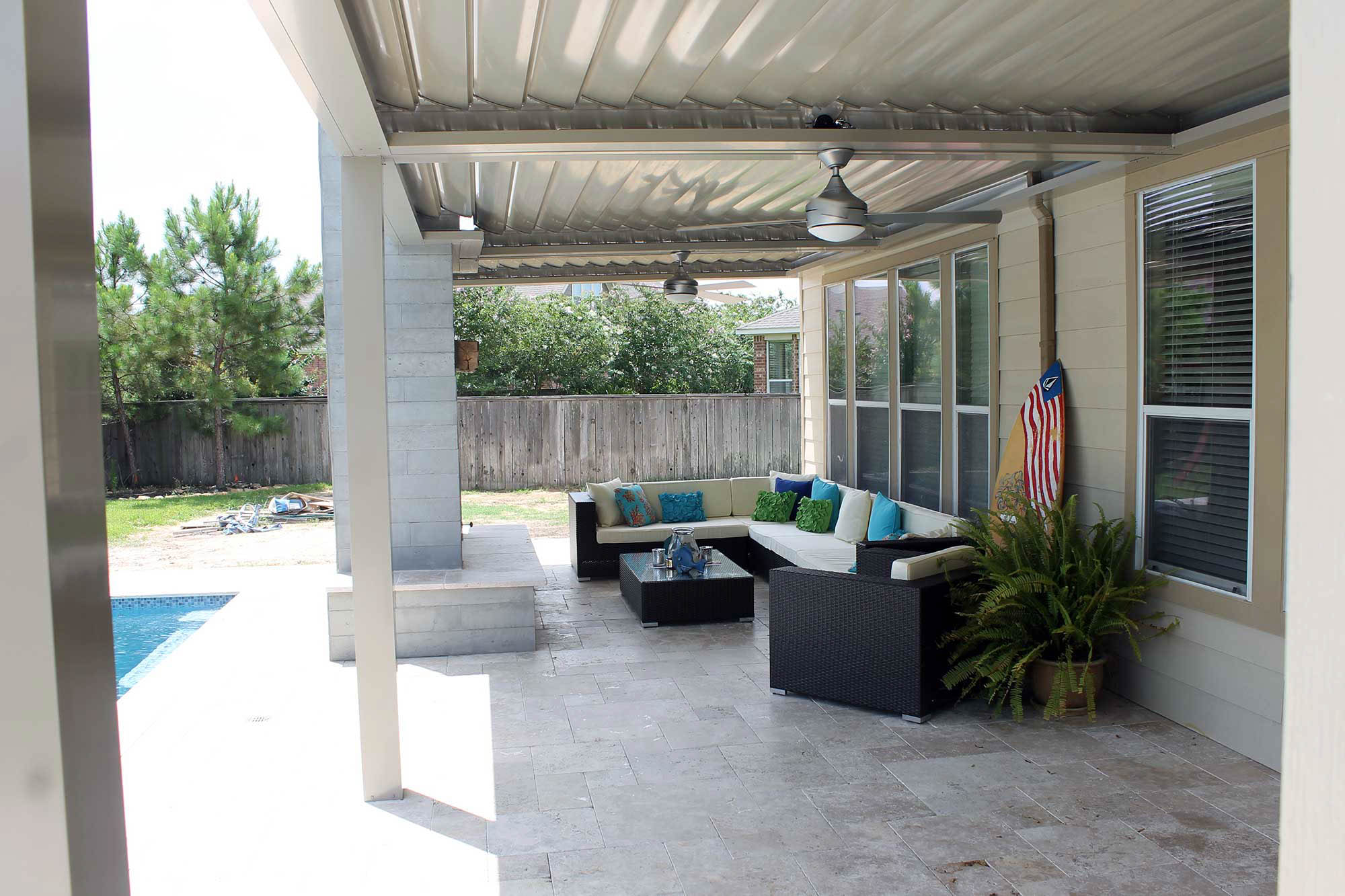 Closed Louvered Roof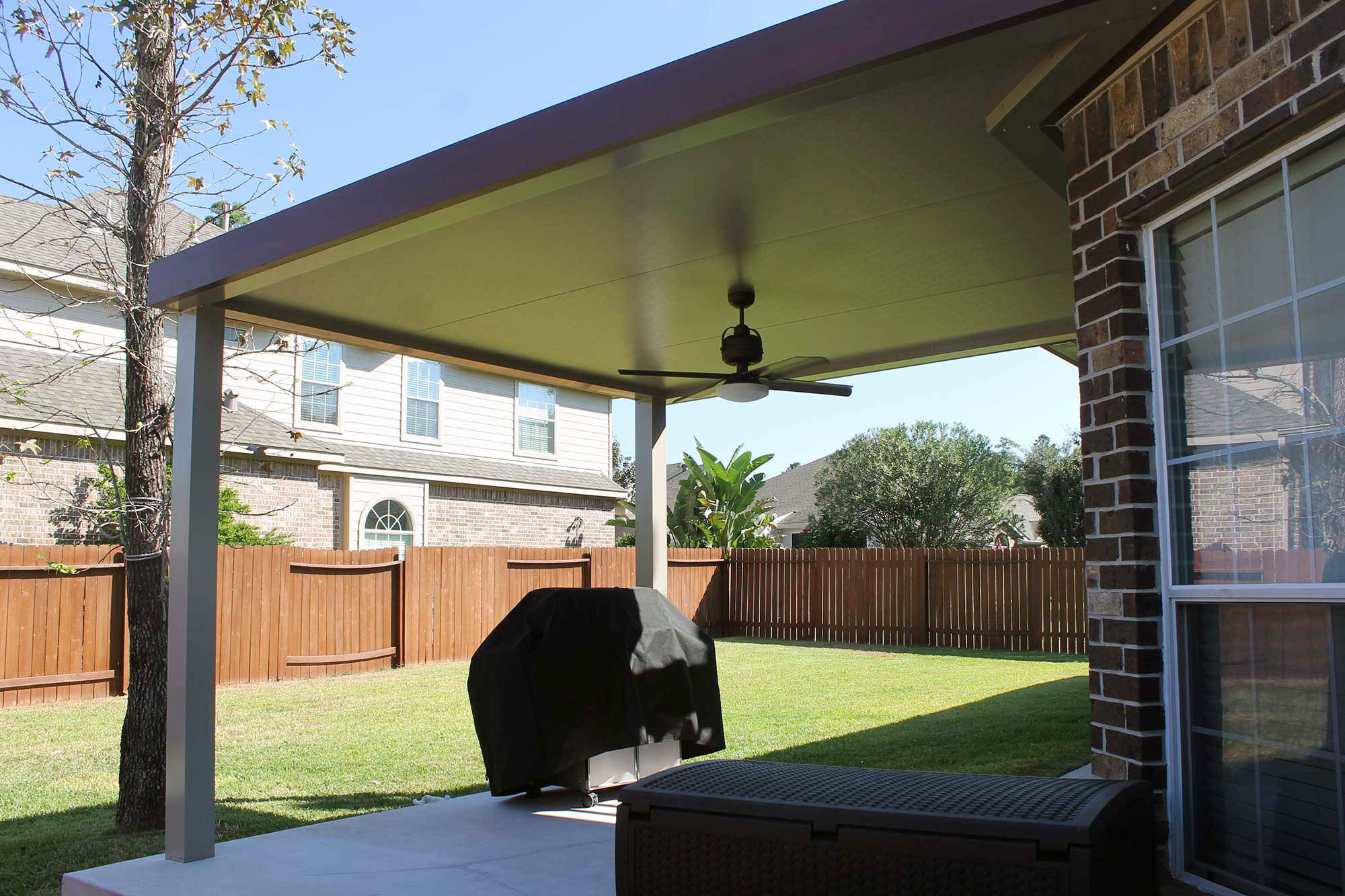 Insulated Patio Cover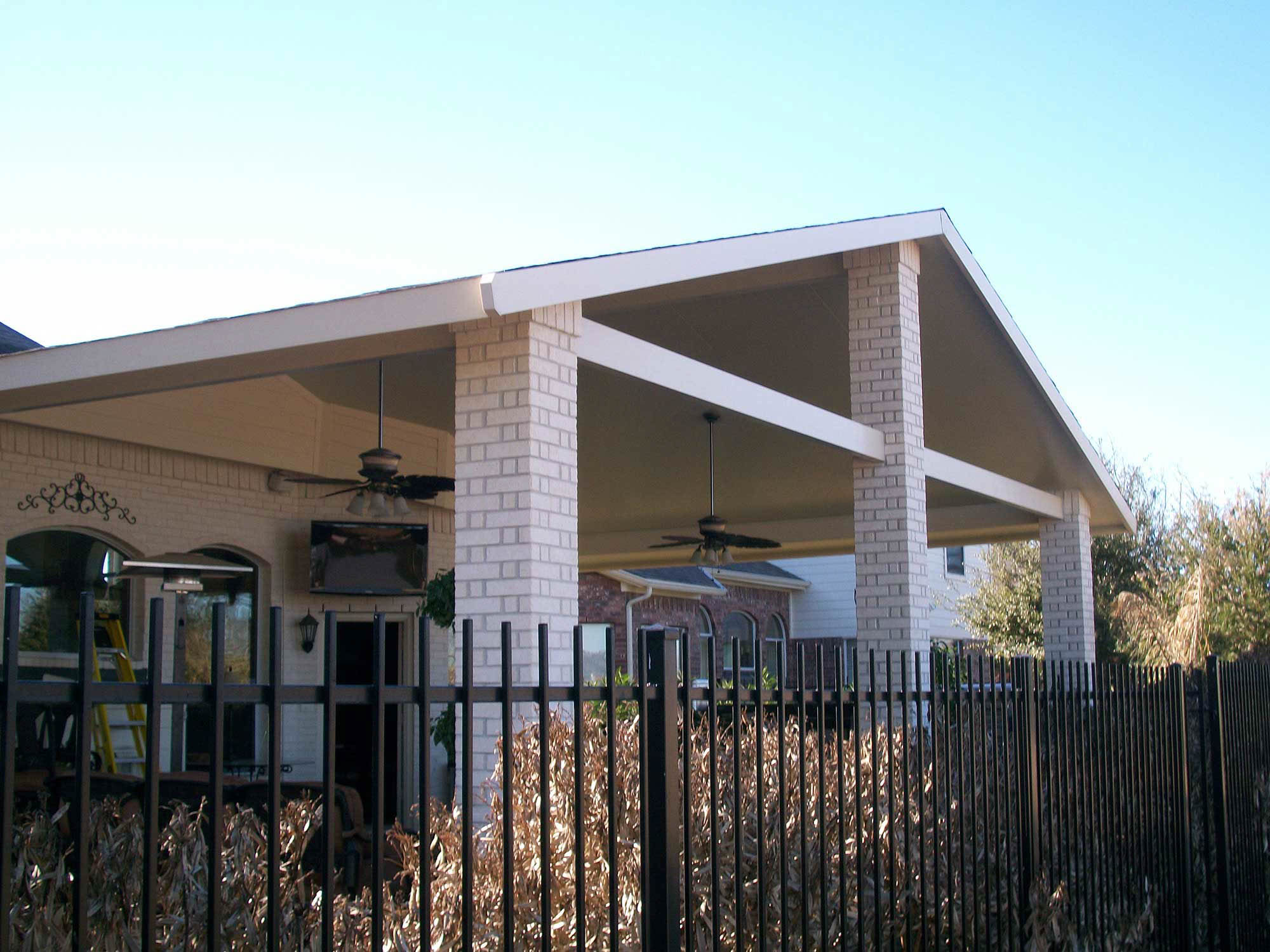 Patio Cover Houston
What are the benefits of an Insulated Patio Cover?
An Insulated Patio Cover increases usability by maximizing functionality in your outdoor space. Homeowners across Houston enjoy increased usability on their patio. Our Patio Covers are insulated, so you don't have to deal with radiant heat. If you have ever sat under a regular metal cover you know, it gets hot and the shade really doesn't matter. Most of our customers choose to add custom lighting and ceiling fans. These features are protected under the patio cover and not exposed directly to any weather.
Insulated Patio Covers allow you to enjoy your patio, cook or relax when you want to. The weather really doesn't matter because you are protected.
If you want to enhance the look of your patio cover, our design specialist can show you ways to combine a solid cover with our lattice arbor. This creates the best of both worlds. We also have a Sante Fe Trim Package and matching post to further dress up your patio cover. Let us design the perfect retreat to start enjoying your backyard in comfort and style.
Call Houston Louvered Roof today to schedule a Free Estimate or fill out our online Free Estimate Form.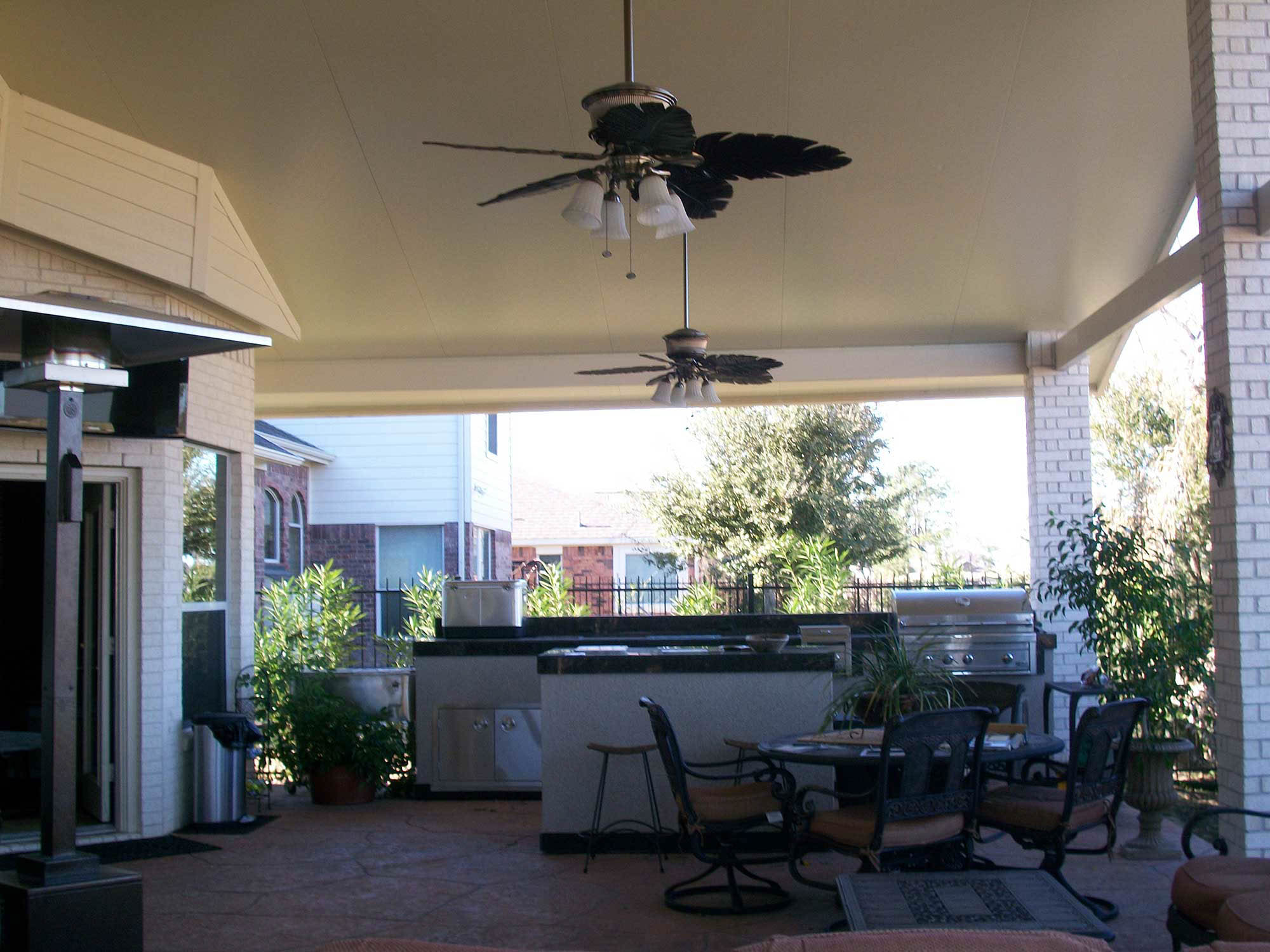 What Our Customers Have To Say...
"We looked at several patio covers and pergolas, but this is the only option that gives you the ABSOLUTE BEST of both! Brent was very easy to work with and we couldn't be happier with our new back porch. Thank you!"
"Hands down the best investment we've made so far in our new home. We entertain and cook outdoors quite often so our new louvered roof makes it possible to enjoy our back porch. Now it doesn't matter when it rains, we can bar-b-que and still enjoy the time together"
"I'm not easy to please when getting any type of renovation on my home, but these guys were great. The guys were pleasant to work with and professional. The finished product turned out awesome, with my new remote I can open and close my new cover."
HOUSTON LOUVERED ROOFS
We Build Inspiring Louvered Roofs
Houston Louvered Roofs are amazing. Actually the very best on the market. Our Patio Covers open and close giving you full control of your outdoor space. Rain or shine they keep you comfortable!
Click to call (281) 761-6316